NOTES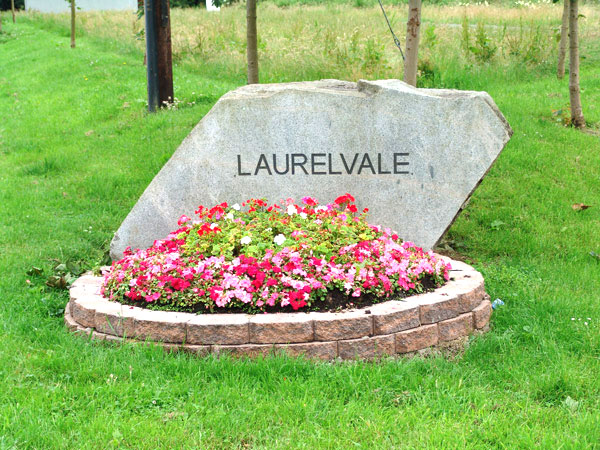 Laurelvale, Tandragee, Co. Armagh, Northern Ireland, United Kingdom


Photograph © 2005 Sinton Family Trees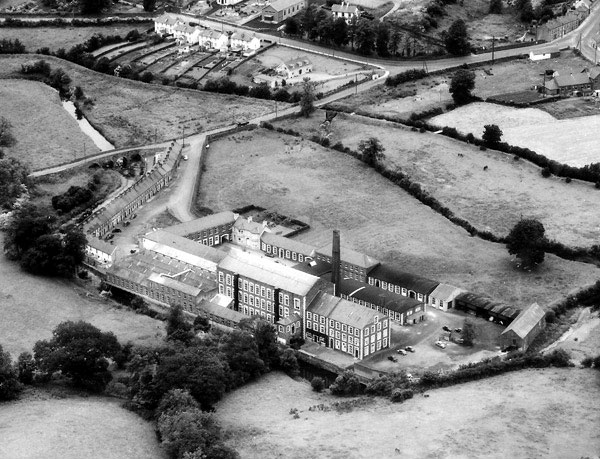 Linen Mill of Thomas Sinton, Tandragee, Co. Armagh, Northern Ireland


Photograph © 1965 Airphotos, Cheddar, Somerset, England, United Kingdom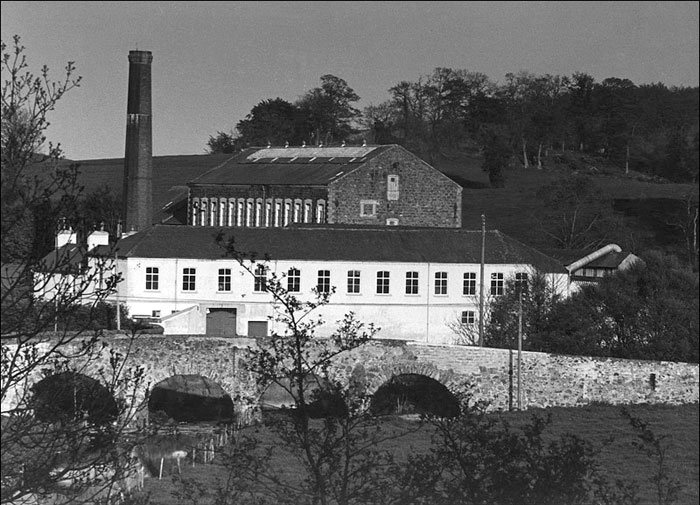 Linen Mill of Thomas Sinton, Tandragee, Co. Armagh, Northern Ireland 1969


Photograph courtesy of Roy Vogan, Tandragee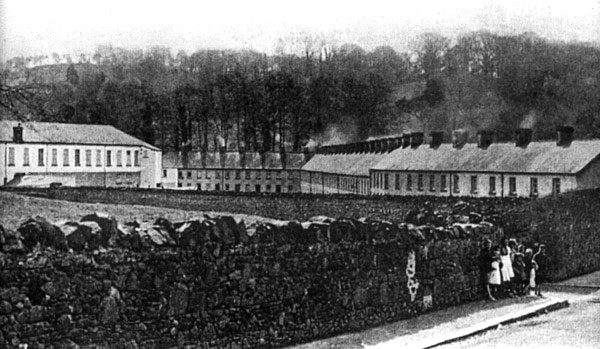 Linen Mill of Thomas Sinton, Tandragee, Co. Armagh and the houses of Mill Row


Photograph courtesy of Roy Vogan, Tandragee
[RFSS Jul 2005]
Quaker.
Thomas owned a large Linen factory in Laurelvale, Co. Armagh, Ireland. Thomas named his residence 'Laurelvale House' and is responsible for the name Laurelvale which had not previously existed. The factory was started in the early 1850's and by the 1880's employed around 700 manufacturing very high grade heavy linen. The company was responsible for almost all of the houses built in the village, especially those for family members and factory managers etc. The factory closed in 1944 when it was acquired by the Ministry of Defence and used by the Hoffman company for the manufacture of ball bearings for tank turrets etc. In the 1970's it was destroyed in a fire, and together with his house the area has recently been cleared for a housing development.
[RFSS Jan 2003]
From: SLATER'S Royal National Commercial Directory of Ireland, [pub. in Manchester, 1881]. Thomas is listed as a Linen Manufacturer with premises at Thomas Street, Portadown and in Laurelvale and Tandragee. In 1885 he acquired another mill at Killyleigh, Co. Down.
[RFSS Nov 2002].
He was "of Laurelvale, Townland of Tamnavelton"; his wife's family was "of Prospect House, near Mullahead, Co. Armagh, where Lizzie was born. Her father is also called "of Tandragee". All Thomas and Lizzie's children were born at Laurelvale. [WLS/JRHG] Thomas and Lizzie probably married Tandragee or Mullavilly Church. [Elizabeth Goelz has complete information on these families.]
PROBATE OF HIS WILL
Title:
Date Of Death:
20 August 1887
Forename:
Thomas
Date Of Grant:
8 December 1887
Surname:
Sinton
Effects:
£112,716 11s. 4d.
Alt Surname:
Registry:
Armagh
Full Abstract:
The will of Thomas Sinton, late of Laurel Vale, County Armagh, merchant and J.P., who died 20 August 1887 at same place, was proved at Armagh 8 December 1887 by William Maynard Sinton and David Arthur Sinton, both of Laurel Vale, merchants, and John Sinton of Ravarnet, County Down, merchant, and John Buckly Atkinson of Portadown, County Armagh, solicitor, the executors.
Transcribed from information supplied by the Public Records Office for Northern Ireland.
[RFSS Jan 2003]
According to the National Archives money converter £112,716 in 1890 would be equivalent to £6,750,595 to-day.
[RFSS May 2009]
There is a large stained-glass window in Mullavilly Parish Church, Tandragee, Co. Armagh with the following inscription: 'Erected by Elizabeth Sinton in loving memory of her husband Thomas Sinton died 20th Aug 1887'. A photograph of the window can be seen at
Window
[RFSS Feb 2003]
From "Banbridge Chronicle, August 27 1887" supplied by Jason Diamond, Banbridge, Co. Down.
FUNERAL OF THE LATE MR THOMAS SINTON, JP, TANDRAGEE -
The funeral of the late Thomas Sinton, JP, who died on the 20th inst. took place on Tuesday last at Laurelvale where the remains were removed for internment in the Friends Burying-ground, Moyallon. The funeral, which left the late residence of the deceased about 12.30 was very large and representative. The employees of the deceased's two mills - viz. Laurel Vale and Tandragee - marched four deep in front of the hearse, which was drawn by four horses.
The chief mourners were - Messrs. Maynard Sinton, Arthur Sinton, Thomas Sinton, Alfred Sinton, Fred Sinton, sons; Messrs Jacob Sinton, John Sinton, W. H. Sinton, Benjamin Sinton, brothers; Messrs Samuel McCauley, Dunfanaghy, and J. B. Wardell, brothers-in-law; Messrs D. H. Sinton, W. S. Sinton, D. F. Wardell, Robert Hesilrige, nephews.
The following were present or sent their carriages :- His Grace the Duke of Manchester, Benjamin Bell, H. J. Uprichard, JP, Gilford; J. B. Atkinson, Portadown; Mrs. Bell, Tullylish; J. G. Richardson, Moyallon; Charles Wakefield, Portadown; R. J. Harden, DL, Harrybrook; James Malcolm, DL, Lurgan; R. G. McCrum, JP, Milford, Armagh; William Smyth, JP, Lenaderg, Banbridge; Andrew McClelland, JP, Banbridge; Thos H. White, JP, Tandragee; Thomas A. Shillington, JP, Portadown; William J. Paul, JP, Portadown; C. E. B. Mayne, RM, Portadown; John Collen, JP; Dunbar McMaster, JP, Gilford; William Liddell, JP, Donacloney; James Orr, JP, Cranagill; Thomas Haughton, JP, Banford; - Crawley, JP, Rostrevor; William Andrews, JP, Brackagh House; - Davies, JP, Bessbrook; Rev. R. E. Glenny, Clonallon Rectory, County Down; Rev. W. M'Endoo, Tandragee; Rev. J. Elliot, Rev. J. Taylor, Rev - Crawford, Rev - Foy, Rev E. J. Wolfe, Mullavilly; Very Rev. Canon Donnelly, Magherafelt; Rev. M. Loughran, PP, Mullavilly; Rev. J. Forsythe, Ahorey; Rev. W. Best, Ballyloughan; Dr. Taylor, Tandragee; Dr. Stanley, Annagh Terrace, Portadown; Dr. Heron, Portadown; Dr. McBride, Gilford; Dr. Frazer, Armagh; J. G. Levingston, TC, Portadown; William Hall, TC; Arthur Thornton, TC; & c. On arriving at the burying ground two short addresses were delivered by Mr B Sinton and Mr Wakefield.
The remains were enclosed in a suite of coffins, the outside one being polished oak, richly mounted. The breastplate bore the inscription - "Thomas Sinton, died 20th August, 1887 aged 62 years." Beautiful wreaths were placed on the coffin from the deceased's sorrowing children, from the employees and from relatives.
The remains having been lowered into their last resting place the funeral procession returned."
(The abbreviation TC above means Town Counsellor.)
[RFSS Apr 2003]
ARMAGH: NEW LIFE FOR OLD MILL
Armagh City Council has invited prospective developers to present their proposals to the development committee in September for the regeneration and development of a local mill. The disused Sinton's Mill at Tandragee, which overlooks the River Cusher, dates from the nineteenth century and is still owned by the Sinton family. The council's plan is to restore the mill to its original condition and to bring it back into productive use. In addition to the mill, which is expected to become a tourist attraction in the area, the development plans will include retail units and apartments.
[RFSS Jan 2003]
The mill in Tandragee, which was built in about 1845 and operated by the Tandragee Spinning Company, was acquired by Mr. Sinton about 1870.
[RFSS Feb 2003]



Headstone of Thomas Sinton 1826 - 1887




Friends Burial Ground, Moyallon, Co. Down


© 2005 Sinton Family Trees
THOMAS SINTON
DIED
20TH OF 8TH MONTH
1887
AGED 62 YEARS
[RFSS Feb 2014]
MARRIAGE NOTES
Ireland Marriages, 1619-1898
Groom's Name: Thomas Sinton
Groom's Birth Date:
Groom's Birthplace:
Groom's Age:
Bride's Name: Elizabeth Bridget Buckby
Bride's Birth Date:
Bride's Birthplace:
Bride's Age:
Marriage Date: 12 Jul 1859
Marriage Place: Kilmore, Arm, Ireland
Groom's Father's Name: David Linton
Groom's Mother's Name:
Bride's Father's Name: William Buckby
Bride's Mother's Name:
Groom's Race:
Groom's Marital Status: Single
Groom's Previous Wife's Name:
Bride's Race:
Bride's Marital Status: Single
Bride's Previous Husband's Name:
Indexing Project (Batch) Number: M70220-1
System Origin: Ireland-EASy
Source Film Number: 101402
Reference Number: 291
[RFSS Aug 2011]
SOURCES
| | |
| --- | --- |
| [ s122 ] | Ancestral File - THE SINTON FAMILY - Page 1-10 Ref 25c - Walter Lyon Sinton / Lulu Bell Sinton / John Ronald Howard Greeves / Robert Francis Speers Sinton / Ann Heacock Sinton - Version 1.01 (Feb 2003] |
[ s123 ]
Cemetery Marker - Headstone, Friends Meeting House, Moyallon, Co. Down, Northern Ireland, United Kingdom - H1887-20-08-TS
View Inscription
[ s740 ]
Church Record - Religious Society of Friends, Lurgan, Co. Armagh - Monthly Meeting Burial Register - QLD-783
View Source
| | |
| --- | --- |
| [ s1891 ] | Marriage Registration - Ireland Marriages, 1619-1898 - Marriage of Thomas Sinton and Elizabeth Bridget Buckby on 12 July 1859 in Kilmore Parish, Co. Armagh, Ireland, United Kingdom - Indexing Project (Batch) Number: M70220-1, System Origin: Ireland-EASy, Source Film Number: 101402, Reference Number: 291 - MR1895-12-07-TS-EBB |