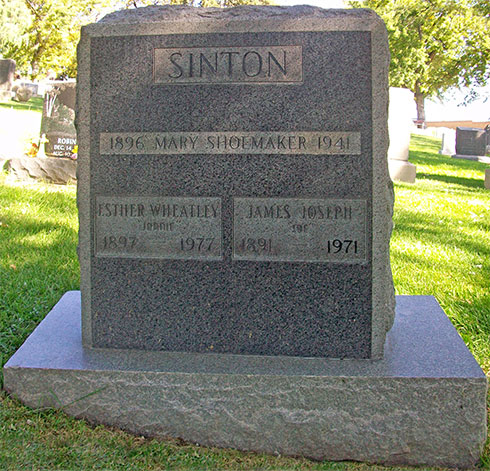 Headstone of Esther Wheatly Sinton 1897 - 1977
Evergreen Cemetery, Colorado Springs, El Paso County, Colorado
Obituary published in the Colorado Springs Gazette Telegraph on Friday 12 August 1977 reads:
Mrs. Esther W. (Johnnie) Sinton
Funeral service for Mrs. Esther W. (Johnnie) Sinton, 2105 Hercules Drive, will be held Friday at 1 p.m. in Evergreen Cemetery with Msgr. Michael Harrington officiating.
Burial will follow in the cemetery.
Mrs. Sinton, 79, was the widow of Dr. J.J. Sinton and had lived in Colorado Springs since 1953.
She was a native of Snowmass, Colo., and taught school in Fountain, Colo., and in District 11 in Colorado Springs.
She was a member of St. Paul's Catholic Church and the Dental Auxiliary Retired Teachers Association.
Survivors include a son, Dr. Thomas Sinton of Colorado Springs; and two daughters, Mrs. Mary Jo Skeels of Littleton, Colo., and Mrs. Margot Petterson of Anaheim, Calif.