USS Ticonderoga under Kamikaze attack
USS Ticonderoga in better days
Photographs courtesy of United States Navy Archives.
For more details on the USS Ticonderoga see
History
[RFSS Dec 2013]
Adm. Sinton was Naval Aviator #3124. He received his wings on January 11, 1924.
On 1 May 1949 William is listed as Capt. William Sinton, U.S.N. Chief of Naval Air Basic Training, Naval Air Basic Training Command, Pensacola, Florida.
My father was born in Gwatmey, Virginia (later consolidated into Richmond) on May 9, 1897. He died in Pensacola, Florida on 11/25/77.
He and my mother were married in Newport, Rhode Island on August 18, 1922.
He went to the Naval Academy and graduatd in 1919, the class of 1920 - they got out early because of WWI. He became a naval aviator shortly thereafter.
In WW2, he comanded the aircraft Carrier USS Ticonderoga after it had been attacked by several kamikazes. He finished the war in Tokyo bay several days after the signing of the treaty with the Japanese.
A slight digression - he went to look for Amelia Earhart in the 1930s
He was transferred to Pensacola in 1946 where he was stationed until he retired in 1949 and became president of one of the Florida National Banks.
[CSC Dec 2013]
United States Social Security Death Index
Given Name:
William
Middle Name:
Surname:
Sinton
Name Suffix:
Birth Date: 9 May 1897
Social Security Number: 263-44-3682
State: Florida
Last Place of Residence: Escambia, Florida
Previous Residence Postal Code: 32507
Event Date: November 1977
Age: 80
[RFSS Nov 2006]
United States Department of Veterans Affairs
SINTON, WILLIAM
RADM US NAVY
WORLD WAR I, WORLD WAR II
DATE OF BIRTH: 05/09/1897
DATE OF DEATH: 11/25/1977
BURIED AT: SECTION 36 SITE 1776
BARRANCAS NATIONAL CEMETERY
NAVAL AIR STATION, 1 CEMETERY ROAD, PENSACOLA, FL 32508
To view a map of the cemetery click
Map
[RFSS Jan 2011]
Florida, Death Index, 1877-1998
Name:
William Sinton
Name Prefix:
Name Suffix:
Event Type: Death
Event Date: 25 Nov 1977
Event Place: Escambia, Florida, United States
Gender: Unknown
Age: 80
Race: White
Birth Year (Estimated):
Affiliate File Name: Fdi09.txt
Affiliate Line Number: 117972
Affiliate CD Number: FDI09
Certificate Number: 80686
Volume Number:
Note:
[RFSS Nov 2013]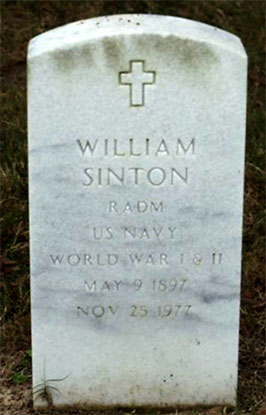 William Sinton 1897 - 1977
Barrancas National Cemetery, Naval Air Station, Pensacola, Escambia County, Florida
The photograph comes from the Find A Grave website courtesy of chuck cummins
The location is Barrancas National Cemetery, Naval Air Station, Pensacola, Escambia County, Florida, United States of America.
Link to the Find A Grave site for William Sinton
[RFSS Nov 2013]